Go Solar in 2023
Solar is more affordable than ever with costs that have dropped 74% in the last decade.
The 30% Federal Tax Credit was just extended (including batteries)
REAP Grants are taking applicants that can help get payback periods under 5 years for some business owners
PPL customers can now see commercial solar rebates of $1,000/kW
If you don't go solar, the average person spends 78% more over the life of a solar system
Please check out our free resources below and let's make Pennsylvania a leader in solar development together.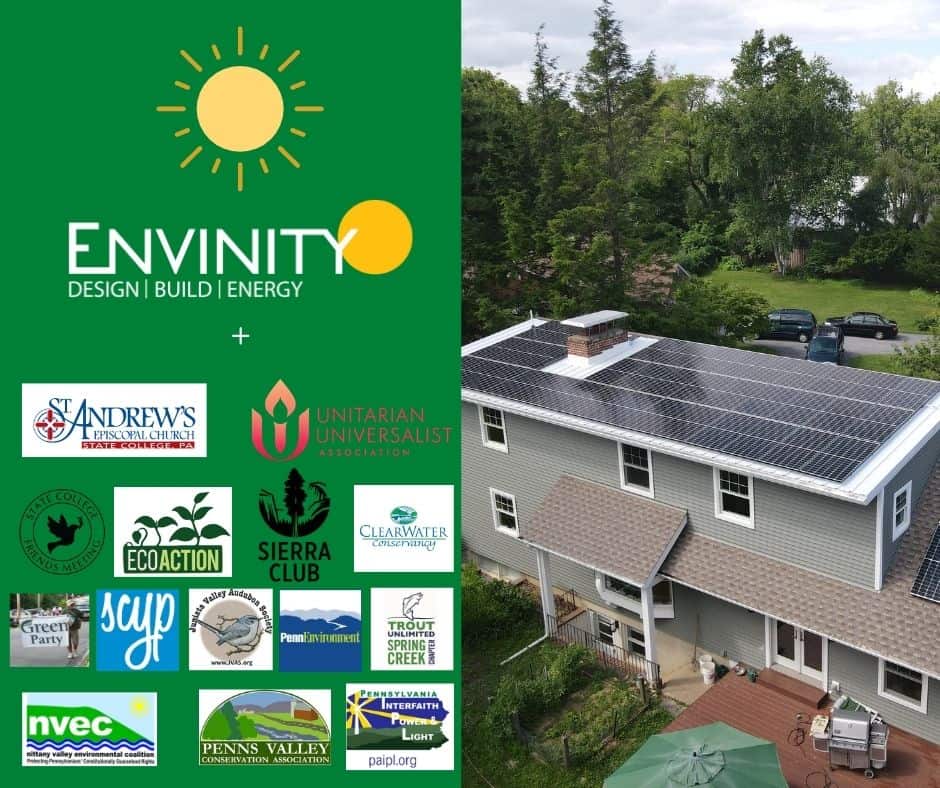 STEP 1: SCHEDULE YOUR NO PRESSURE SOLAR CHAT
STEP 2: REGISTER FOR OUR NEXT SOLAR EVENT
Join Us!
Register for our next solar event and learn about the future of solar, energy storage, and various other topics with a panle of our experts including past clients, our staff, and partner vendors.
Become a Solar Champion
Are you ready to spread the love to friends and family to save money, mitigate climate change, and become energy independent? 
We're going to make claiming that referral check oh so sweet and easy with….
 A Free email template

Links to share the event videos

Links to our Free FAQ and Solar Buying Guide
The bottom line is, we want to provide solid solar education and shopping tips so you get premium quality without the premium costs and that's worth shouting from the Nittany Mountain top!
*$1,000 upon installation of a commercial referral, $500 upon installation of a residential referral just for attending our first Virtual Solar Tour
STEP 4: SHARE THE RECORDINGS

STEP 5: CHECK OUT OUR OTHER VIDEOS

ENVINITY - WHY GO SOLAR NOW?
Solar Power and renewable energy are the way of the future. Watch our 4 minute video on why you should go solar TODAY.
ENVINITY - OFF GRID SOLAR with Andy Porter
Hear Andy's story on how Envinity helped Andy install his own off-grid residential solar system and how it has impacted his family. Then let Andy share his passion for solar power with you!
ENVINITY SOLAR - COMMERCIAL SOLAR - w/JOSH HELKE (ORGANIC CLIMBING x NITTANY MOUNTAIN WORKS)
Did you know that Organic Climbing's Solar System sits on what used to be a strip mine? This project is the essence of sustainable reinvention and sustainable business practice. Hear Josh's story on how Envinity helped Organic Climbing bring their solar dreams to life and how it has impacted their brand. #SOLARSEWN
ENVINITY SOLAR - A NET ZERO HOME with KELLY AND CHRIS FOREST
The Forests are our dream clients that understand what they stand to gain from a sustainable lifestyle and love sharing their experience with other families in our region.
ENVINITY SOLAR - ROOF AND GROUND MOUNT - SRIDHAR ANANDAKRISHNAN
Solar Power and renewable energy are the way of the future. Hear how one of our clients Sridhar Anandakrishnan made the decision to go solar and hear his perspective on his family's solar future.
Architectural Design
Passive Solar Design
Passive House
Water Conservation and Indoor Air Quality
Energy modeling
Robust and Resilient Building Envelopes
Thermally Superior Windows + Doors
Low VOC/Responsible Building Materials
Building Diagnostics + Air Tightness Testing
Solar Design, Install & Service
High efficiency HVAC Design
Controls and automation
Energy Audits
Incentives/Rebates