Climate Action Planning in Centre County
The first update to share is that the Centre Region Climate Action & Adaptation Plan encompasses the Borough of State College and Townships of College, Ferguson, Halfmoon, Harris, and Patton and was adopted in November 2021. Here are the highlights of what this plan hopes to accomplish:
45% Greenhouse Gas reduction goal by 2030
Reduce energy consumption by 30% for homes and 25% for businesses
Transition to renewables to power 10% of homes and 5% of businesses
Pennsylvania Solar as a Whole
Source: https://www.seia.org/state-solar-policy/pennsylvania-solar
Solar Installed (MW):
855.0
National Ranking:
23rd (17th in 2020)
Enough Solar Installed to Power:
112,268 homes
Percentage of State's Electricity from Solar: 0.39%
Solar Companies in State:
413 (102 Manufacturers, 197 Installers/Developers, 114 Others)
Total Solar Investment in State:
2.4 billion
Prices have fallen:
11% over the last 5 years
Growth Projection and Ranking:
1,788 MW over the next 5 years (ranks 21st)
Number Of Installations:
41,239
Other Regional Solar Initiatives
Creation of solar database and information
The Centre Region of Governments has launched  a database to improve solar market conditions, making it faster, easier, and more affordable for our residents and businesses to install solar energy systems. These efforts will also increase the efficiency of local processes related to solar development, which may save our local government time and money. Read more on the database here.
What does it include?
1. Intergovernmental Solar Power Purchasing Initiative
2. C-PACE adoption in Centre Co
You may already know this but…Centre County Commissioners passed Resolution 17 of 2020 at their July 28, 2020 meeting to create the Centre County C-PACE Program countywide and identified Sustainable Energy Fund (SEF) as the program administrator. This means that Centre County commercial businesses, agriculture interests, and nonprofits, with the aid of private capital providers, will be able to finance clean energy and water efficiency projects with long-term and low-cost financing. To learn more about the program and what projects are eligible for financing, please contact us today.
C-PACE has leveraged over $1 billion of investment in 35 other states and is now available in Pennsylvania.
SolSmart is a U.S. Department of Energy-funded program that recognizes regional organizations like ours for making it faster, easier, and more affordable to go solar. Their national team of experts provides no-cost technical assistance to help communities foster the development of local solar markets. By streamlining local requirements and taking other steps to encourage solar development, our region will become "open for solar business." And since the solar industry is a leading source of American job creation, attracting solar investment in our community is a great way to promote economic development and new jobs.
SolSmart staff will help evaluate programs and practices that impact solar markets and identify opportunities for improvement for the Centre Region.
4. National Renewable Energy Laboratory (NREL) staff will assist COG staff with the Solar Power Purchase Agreement (SPPA). This assistance would complement the energy services consultant the SPPA Working Group intends to hire and help with the RFQ/RFI/RFP process. This should help keep the consultant's costs in check and offer another source of expertise.
5. Sustainable Centre Region solar guide (coming soon)
6. Regional support of solar cooperative model
7. Local government leadership – UAJA, SCBWA, Ferguson Twp, CCCF, Millheim Boro have all gone solar
Envinity is proud to be the installer on the Ferguson Township Public Works Building
This system has over 230 solar panels filling the roof of the new Public Works Building.
That's 89.2 metric tons of CO2 per year your local government is offsetting!
That's the equivalent of…
20 Passenger vehicles per year
207 barrels of oil a year
3,384 Incandescent light bulbs switched to LED
16.2 homes a year in State College
1,486 trees planted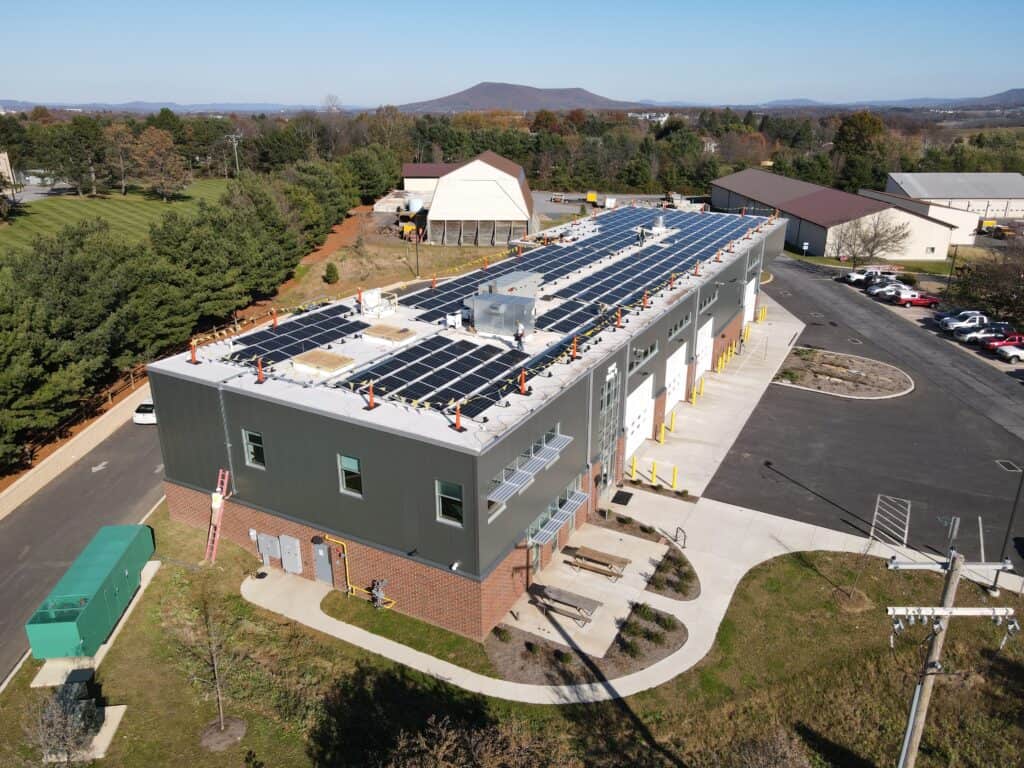 Envinity Solar Cooperative 2022
Envinity is offering a Centre County Solar Cooperative from now until 2/28/22
Tiered pricing based on system size for all Centre Co homeowners through the Winter
Help accelerate achieving our regional climate goals
Continue to develop and grow our local skilled labor
Cooperative Member Bonuses:
Extended warranties
Increased referral bonuses
Price matching
Local service with trained technicians
Support local businesses and employees
Sample Envinity Solar Cooperative Project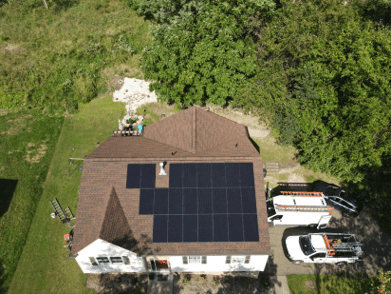 Example – 8.74 kW Solar System
9,979 estimated annual kWh = 96% power bill offset
~10 annual Solar Renewable Energy Credits, currently $38 each
82.6% of production guaranteed in year 30
8,740 watts * $2.80/watt = $24,472
After the 26% tax credit = $18,109
With 20-year CECU financing = $125/month
Contact us today at [email protected] to learn more about Centre Region Climate Action and how you can join our solar cooperative before it closes 2/28/22