What you need to know:
Energy prices will increase between 2 percent and 30 percent for the summer months,  in Pennsylvania Electric Utilities depending on the service territory. Penelec customers, for example, will see an increase of 30 percent, from 4.981 to 6.462 cents per kWh. 
PAPowerSwitch energy shopping website with valuable information on how to shop for electricity supply services. Pennsylvania residents can access the PAPowerSwitch website here. 
PUC is also reminded residents to explore energy reduction measures and overall energy conservation to manage bill projected costs and overall energy usage. As the summer cooling season approaches, this is a concern for many Pennsylvania residents. 
Citizens' Electric, with an increase from 6.4477 to 6.9777 cents per kWh (up 8.2%);
Duquesne Light, with an estimated increase from 7.07 to 7.41 cents per kWh (up 4.8%)
Met-Ed, with an increase from 5.418 to 6.69 cents per kWh (up 23%);
PECO, with an increase from 6.267 cents to 6.402 cents per kWh (up 2.2%);
Penelec, with an increase from 4.981 to 6.462 cents per kWh (up 30%);
Penn Power, with an increase from 5.721 to 7.195 cents per kWh (up 25.8%);
PPL, with an increase from 7.317 to 7.544 cents per kWh (up 3.1%);
UGI Electric, with an increase from 6.119 to 6.33 cents per kWh (up 3.4%);
Wellsboro Electric, with an increase from 6.3721 to 7.259 cents per kWh (up 14%); and,
West Penn Power, with an increase from 5.154 to 5.707 cents per kWh (up 11%).
Step 1: How can I get my usage down?
According to Harvard Univerity's Sustainability Top 5 Steps to Reduce Energy Consumption, the easiest steps are:
a. Shutdown your computer
Computers are some of the biggest energy users in office buildings. Turn your monitor off at night and ditch the screensaver. Today's computers can be turned on and off over 40,000 times. Opting to shut down overusing a screensaver does not affect your computer's lifespan. (EnergyStar). So power down!
b. Choose the right light
LED bulbs are the most energy-efficient lighting option. LED bulbs use 75% less electricity than incandescent bulbs (Energy Star). They also have no mercury, and last about 25 times longer than traditional incandescent bulbs (DoE).
c. Eliminate vampire power: unplug idle electronics.
Devices like televisions, microwaves, scanners, and printers use standby power, even when off. Some chargers continue to pull small amounts of energy, even when plugged in (a good judge of this is if a charger feels warm to the touch). In the US, the total electricity consumed by idle electronics equals the annual output of 12 power plants (EPA).
d. Use a power strip to reduce your plug load.
To avoid paying for this "vampire power," use a power strip to turn all devices off at once. Flipping the switch on your power strip has the same effect as unplugging each socket from the wall, preventing phantom energy loss.
e. Turn off the lights
Just one switch and you're done!
Step 2: Let's make meaningful change together
The most impactful way to get your energy bills down is to schedule an Energy Audit with Envinity.
Our energy audits are thorough and comprehensive. The day of the audit will go something like this:
We will sit down and discuss your home, including energy costs, comfort issues, moisture problems, and any health or safety concerns you have.
We then install up to $200 worth of energy-saving equipment including LED bulbs, power strips, and energy-saving showerheads; this qualifies you for a rebate of $250 from FirstEnergy.
We then perform a full diagnostic assessment of your home, using specialized equipment such as a blower door and infrared camera to assess sources of energy loss.
After we have conducted the energy audit, we will go back home and examine our findings. At this point, we will:
Analyze your energy bills
Create an energy model of your home, and determine which upgrades would save you the most energy and money
Compile a report with suggested measures and include the payback period for each (find a sample of our report here)
Meet with you to discuss or findings and your options
Complete and submit your rebate paperwork The American Council for an Energy-Efficient Economy recently ranked our report the #1 energy auditing report  READ MORE
Here are some reasons:
Solar is more affordable than ever with costs that have dropped 74% in the last decade.
The 26% Federal Tax Credit was just extended (including batteries)
REAP Grants are taking applicants that can help get payback periods under 5 years for some business owners
If you don't go solar, the average person spends 78% more over the life of a solar system
Pay Your Electrical Utility OR Pay Yourself?
Before the price increases: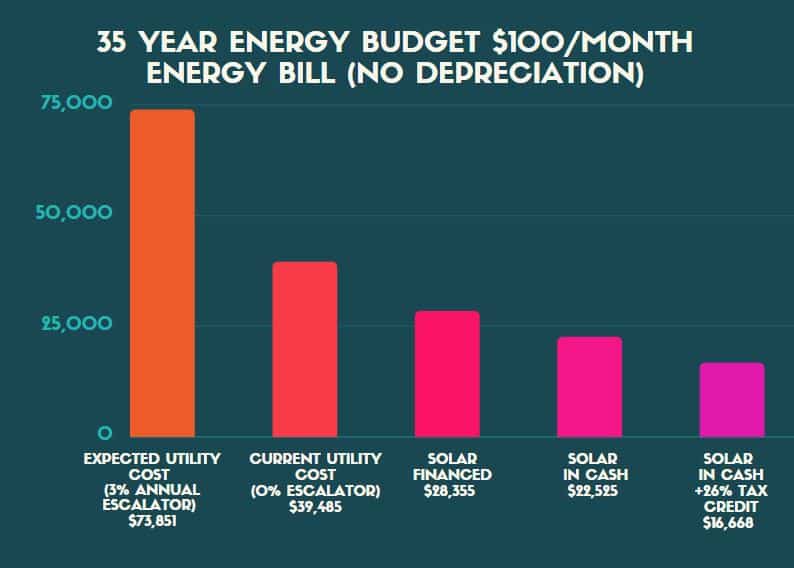 After the price increase: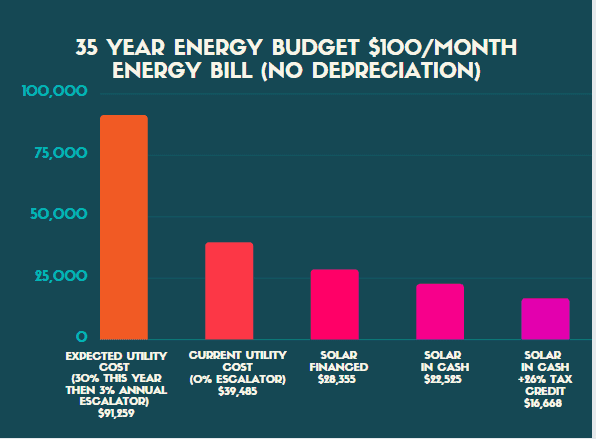 Additional Contact:
Candice Bradley, Manager of Business Development and Marketing
[email protected]